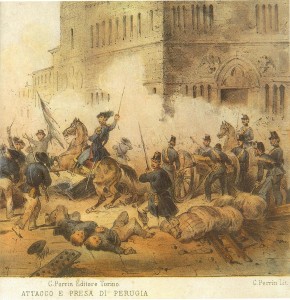 Since December 8, 2010 to June 2011 a new section is open within House Museum. In this section there are exposed original documents, letters, manuscripts, books, prints, photos, medals, magazines and other items relating to the Risorgimento period in PERUGIA and in Italy.
The new temporary section entitled Dal Risorgimento all'Unità d'Italia. Documenti e immagini dalle raccolte di Palazzo Sorbello is part of the commemorative events calendar of 150 years after the Unification of Italy.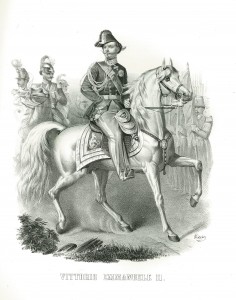 In the halls of the House Museum are visible works by Silvio Pellico and Massimo d'Azeglio, documents about the Risorgimento period in Italy and in Perugia, volumes in English, articles, photos and various documentation by Uguccione Ranieri di Sorbello (1906-1969). The latter include some notes manuscripts of 1959 about controversies triggered by Archbishop Parente during the occurrence of 100 years of the 20th June of Perugia.
In the main floor of Palazzo Sorbello there are some large format volumes with fine engravings, fine prints with scenes of battles, interesting documents, rare vintage posters and magazines that allow you to relive the revolutionary climate of the time. Next to books and prints there is a original flag with the coat of arms of Savoy and a silk printed with the image of Pope Pius IX, surrounded by a papal document of clemency.
A space is dedicated to the exposure of materials related to the years immediately preceding and following the Perugia and Umbria annexation to the Kingdom of Italy. Handwritten books, letters and documents testify the Bourbon di Sorbello relationship with two important intellectuals in the umbrian Risorgimento: Assunta Pieralli and Luigi Bonazzi. Finally, a showcase is dedicated to Matteo De Vecchi (1839-1917) who participated with value to all wars of the Risorgimento.