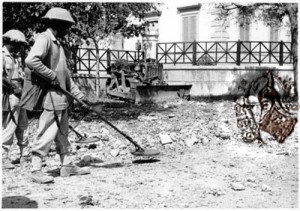 The role of the Allies in the liberation of Italy, with particular attention to Umbria and Central Italy, is one of the areas the Foundation takes a particular interest in drawing inspiration from the work of Uguccione Ranieri di Sorbello (1906-1969) who participated with passion and valour in the Allied Military Campaign in Italy between 1943 and 1945.
The Library has collected texts, photographs, films and original documents related to the Liberation of Perugia and Umbria in 1944-1945. This set of Documents has been increased with copies of materials from the Imperial War Museum, London, as for example: documents & essays of military history, films, pictures & sound records.
Among the volumes published by the Fondazione Ranieri di Sorbello on the topic: Perugia Liberata. Documenti anglo americani sull'occupazione alleata di Perugia (1944-1945) by Roger Absalom and Gli Alleati in Umbria/The Allies in Umbria (1944-'45) edited by Ruggero Ranieri.
Allied military government documents (Register)
A Force
Monthly Reports