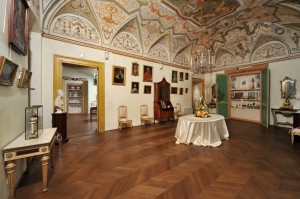 The Fondazione Ranieri di Sorbello preserves an important part of the art collections of engravings, textiles, paintings and porcelain collected by the Marquises Bourbon di Sorbello.
The Marquises were keenly interested in the arts, as demonstrated by over 2500 prints, 550 pieces of Richard Ginori, Meissen and Dresden porcelain, and a collection of more than 300 tablecloths and embroidered fabrics from the school of embroidery founded by Romeyne Robert, the wife of Marquis Ruggero VI.
A selection of the most valuable objects from the art collections is permanently exposed to the public. In winter time temporary exhibitions are organized, focusing on some particular aspects of the Foundation's art collections. The Foundation also welcomes temporary exhibitions proposed by other institutions.