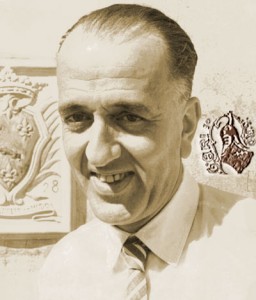 The Uguccione Ranieri di Sorbello Foundation is a charitable trust.
It was founded on December 28, 1994 in the State of New York. Its aim is to promote and develop the cultural heritage of the Ranieri di Sorbello family through historical and cultural projects and exhibitions.
It holds, among other things, an important family library, an archive and art collections, including prints, drawings, family portraits, embroideries, fabrics and porcelains.
The Foundation is named in memory of Uguccione Ranieri di Sorbello (1906-1969), journalist, writer and diplomat. Its offices are on the first floor of Palazzo Sorbello at 9, Piazza Piccinino, Perugia.
From April 2012 was established at Perugia the new  Fondazione Ranieri di Sorbello that will replace the various activities of the Uguccione Ranieri di Sorbello Foundation.